The VOGUM 2023 – A 40 mile challenge along the Wales Coast Path from Porthcawl to Penarth.
Picture the scene… clear sky, warm weather and the sun beating down as you glide your way along the Wales Coast Path. Remember, this is Wales and anything goes when it comes to the summer weather.
This Challenge is perfect for anyone looking to push themselves, all whilst having a good time with other members of the community. The route will be clearly marked with checkpoints and aid stations to keep all on course and get you to the finish line safely.
The Vale Coast Path
This invigorating route takes in golden beaches, dramatic cliffs, Ogmore Castle and the infamous stepping stones. 40 miles of this amazing path runs through the Glamorgan Heritage Coast from Porthcawl in the West to Penarth in the East.
Point of interest
Ogmore Castle was one of a number of fortifications built in the late eleventh/early twelfth century to secure the Vale of Glamorgan which had been seized by Robert Fitzhamon and his retainers. After you cross the infamous stepping stones, take a look to your left.
Enough of the huff, sign up today, challenge your perceived limits and toe the line at the VOGUM in 2023.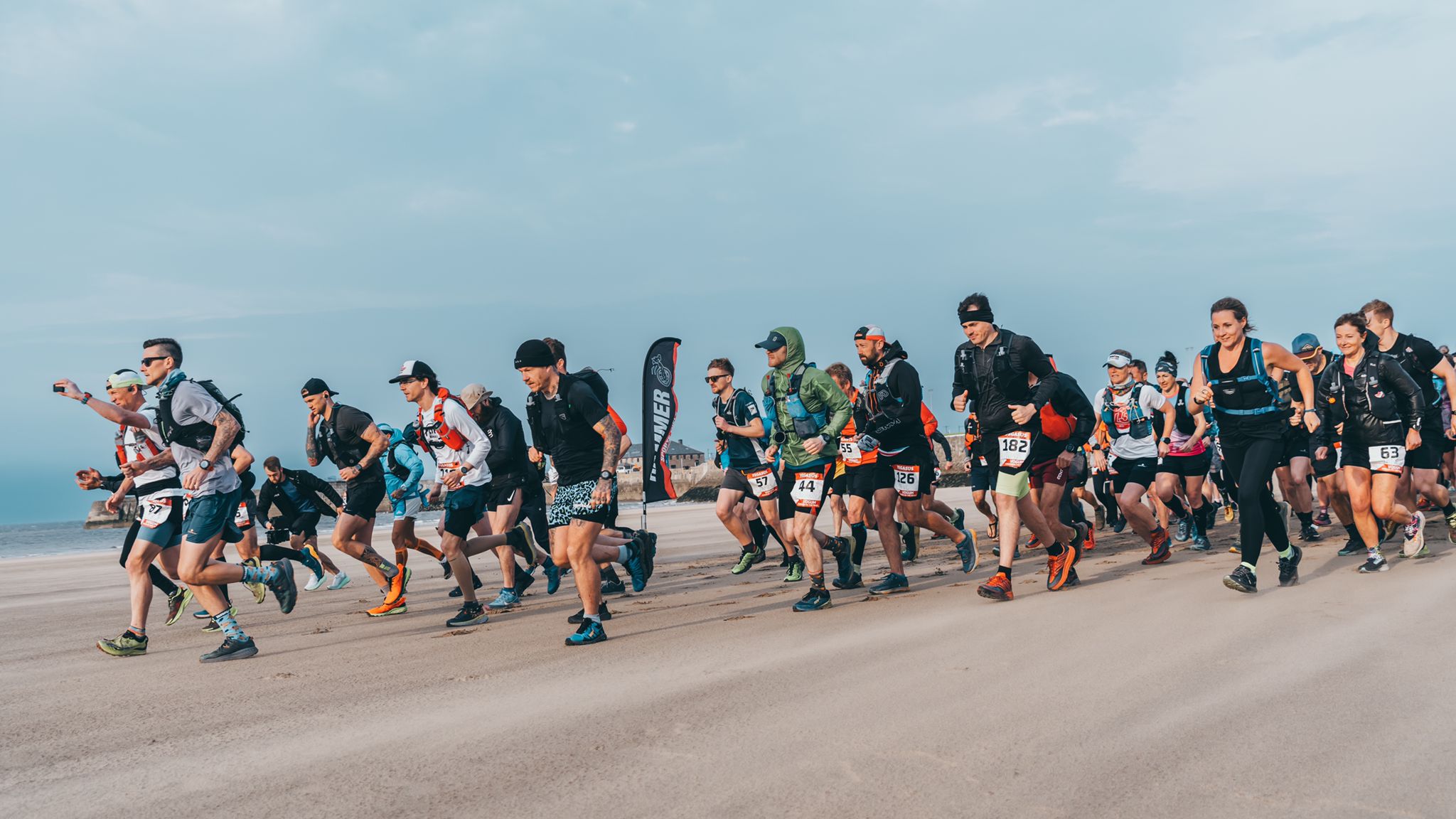 Race Day Schedule –
05:30 – Registration Opens in Porthcawl
06:45 – Pre-Race Chat and ACDC Hits!!!
07:00 – Start of The VOGUM 2023
Time Limits and Checkpoints –
Please note we do not have time limits. Like we've stated previously, you've trained and paid to enter this race… We owe it to each Athlete to provide the help, support and time to get all to the Finish Line. Although we want our Athlete's to challenge themselves, we don't believe you have to run your heart out to do so. Take in the scenery, have a chat with a local, but most of all… Enjoy the trek!
In terms of Checkpoints, there will be 5 along the route. They will be fully manned and stocked with; snacks, fresh fruit, drinks, music and the odd beer. Please let us know of any special dietary requirements, and we will accommodate accordingly.
The VOGUM Compulsory Kit –
Appropriate Footwear (No High Heels)
Water Carrier (1L or More)
Mobile Phone
Compass
Head Lamp or Other Light Source for Night-Time
Foil Blanket
Waterproofs
Rucksack
Sense of Adventure!!!
Included with your Entry –
Infamous Pegasus Medal, Fully Loaded Checkpoints, Post Race Care, Professionally organised event and much more…
Coach Transfer –
We will put on an optional coach transfer from Penarth (the finish line) to Porthcawl (the start line) on the morning of the event. Meaning anyone catching the coach can leave their car in Penarth for the day and pick it up once they cross the finish line (40 miles later). Coach will depart Penarth at 04:30 hours and will cost an extra £10.00, which can be added on to any Si Entries entry.
Please note all runners riding the coach must let us know in advance, you can not just turn up on the morning of the event expecting a place if you haven't let us know.
What to expect once you sign up –
A friendly 'welcome to the party' (event) email will be sent to the email address you registered with. Be sure to join the super duper Pegasus Community Group on Facebook here and get to know your fellow runners – we promise they won't bite!
The next time you will hear from us (directly) will be in the form of an email 6 weeks before your chosen event, then another email 4 weeks before the event and a final email 2 weeks before the event.
Alas that isn't the last communication – please keep an eye on your mobile for a phone call from our Race Director a couple of days before the event is due to take place – don't worry you haven't done anything wrong – it's a peace of mind call to make sure you are ready for the big day!
Fancy volunteering?
Want to experience a Pegasus event from the eyes of a volunteer and race crew? Drop us an email to info@pegasusultrarunning.com and we'll be sure to get in touch.